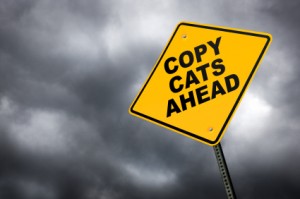 This month we consider the importance of trademark registration and brand protection in an increasingly global market.
With the ease and accessibility of Internet e-commerce, it has become much easier for foreign merchants and manufacturers to sell their goods here in the United States and for U.S. companies to do the same overseas. This naturally gives rise to more competition for the same customers and greater importance on protecting your brand in the marketplace.
So what are some key considerations for a sound brand protection strategy in the global market? Consider the following:
1. Protect Your Trademark In Relevant Markets – For most businesses (especially if you're reading this), your most relevant market is the United States. International trademark protection may not be required for your business. For others, it may be essential. Ask yourself:
* Will I be conducting business outside the U.S.?
* Will I ever export my product overseas?
* Will I ever manufacture my product overseas?
* Can I afford international IP protection? If so, in what markets would my product most likely be commercially sold?
* What is the likelihood of my product being copied or sold abroad?
If international trademark protection is right for your business, identify the countries or regions in which you will need protection. Patent and trademark rights are territorial, so a U.S. registered trademark does not provide protection in foreign countries. International trademark registration can be costly, so select the markets that are commercially relevant for your business now and in the foreseeable future and start there.
2. Enforce Your Trademark – Registering your trademark with the U.S Patent and Trademark Office is not the final step in protecting your brand name. Quite the opposite, it's just the begining. Once you have a registered trademark, take advantage of the benefits afforded by registration. Sign up for trademark monitoring services to keep an eye on any newly filed trademark applications that may be eerily similar to yours for related goods or services. The U.S. trademark system offers various means of challenging or opposing a potentially infringing trademark before it gets to registration.
You may also consider recording your trademark with U.S. Customs and Border Protection (CBP). This assists CBP in identifying infringing goods and allows CBP to seize and destroy any infringing goods entering the country.
3. Define Your Rights – When entering into contracts or agreements with foreign manufacturers, suppliers or vendors, explicitly outline your intellectual property rights, including ownership, use, licensing and transfer of such rights, as well as dispute resolution mechanisms.
These are just a few suggestions to keep your trademark and brand name protected in the international marketplace. If you'd like more information about trademark registration or brand protection, including filing your trademark with the CBP or international trademark protection in other countries, please contact one of our Flat Fee Trademark attorneys. We offer free consultations and we're always happy to hear from you, give us a call at (800) 769-7790 or email us.
---