We're excited to announce our third annual list of Top 10 FlatFee Registered Trademarks! This is our list of the top ten brands that were registered through flatfeetrademark.com during 2014.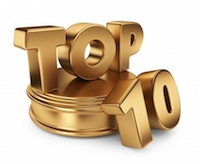 In 2014, the U.S. Patent and Trademark Office issued 204,624 trademark registrations (a major jump from 194,274 in 2013)!
Our top picks for the year are selected based on a number of factors, including: trademark distinctiveness, unique brand identity/design, actual use and recognition in the marketplace, and entertainment value. Our top trademarks this year are a mixed bag of style, inspiration and innovation. So without further ado, we present:
The Top 10 FlatFee Registered Trademarks for 2014:
GREEN ECO WARRIORS
KADAMBA TREE
EPIC MAGAZINE
WHALER & CO.
BRITISH GLAMOUR MEETS BRICKELL CHIC
BLACK DON'T CRACK
SONGGO
BEI MAEJOR
THE ART OF YOU AND ME
CHICAGO COWBOY
Congratulations to the 2014 FlatFee Trademark winners and all of our clients who filed and registered trademarks last year. We look forward to seeing your businesses' continued growth and success in the future!
We compile the Top 10 FlatFee Registered Trademarks list annually, so be sure to get your trademark applications submitted so they can be considered once registered. For more information on the Annual Top 10 FlatFee Registered Trademarks, please contact us. For more information on registering your trademark or brand name, please call for a complimentary consultation with a FlatFee Trademark attorney, (800) 769-7790. We're always happy to hear from you!
---