Neuralstem (Nasdaq: CUR) announced that the U.S. District Court for the District of Maryland dismissed StemCells (Nasdaq: STEM), Inc.'s patent infringement case with prejudice in StemCells, Inc. v. Neuralstem, Inc. in favor of Neuralstem, on July 22, 2015.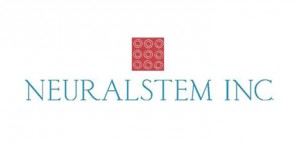 The District Court held a bench trial on the issue of standing in December of 2014. In its 29-page Memorandum Opinion, the U.S. District Court for the District of Maryland ruled that a third-party scientist is a co-owner and co-inventor of the patents-in-suit. As a result, StemCells, Inc. lacked standing on its own to bring its patent infringement claims against Neuralstem, Inc. and the case was dismissed with prejudice.
About Neuralstem
Neuralstem's patented technology enables the commercial-scale production of multiple types of central nervous system stem cells, which are under development for the potential treatment of central nervous system diseases and conditions.
Neuralstem's ability to generate human neural stem cell lines for chemical screening has led to the discovery and patenting of compounds that Neuralstem believes may stimulate the brain's capacity to generate neurons, potentially reversing pathologies associated with certain central nervous system (CNS) conditions. The company has completed Phase Ia and Ib trials evaluating NSI-189, its first neurogenic small molecule product candidate, for the treatment of major depressive disorder (MDD), and is expecting to initiate a Phase II study for MDD and a Phase Ib study for cognitive deficit in schizophrenia in 2015.
To read the full news story click Neuralstem (Nasdaq: CUR) announced that the U.S. District Court
---