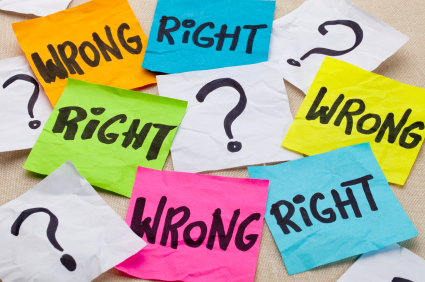 What makes a good trademark? How do you choose the right name to identify your goods or services to potential customers? That is, after all, the principal function of trademarks. It's a unique identifier that signals to potential consumers who it is that is offering a particular product or service. It's how you know to buy Crest® toothpaste or Goodyear® tires.
Entrepreneurs and prospective business owners must be savvy from the start in choosing a name that not only accurately reflects their brand aesthetic but that also serves as a trademark, because all names are not created equal. There are some names that make excellent brand identifiers and work very well as trademarks, and others that do not work as well and may not qualify for trademark protection before the United States Patent and Trademark Office (USPTO).
So how do you select the right name for your brand? Here are a few Dos and Don'ts for choosing a truly distinctive trademark that will stand out among consumers and sail smoothly through the trademark registration process.
1. Do Select a Fanciful or Arbitrary Mark: These types of trademarks are accorded the highest level of trademark protection by the USPTO because they are the most distinctive. Fanciful marks are picked right from one's imagination, perhaps derived from another word or language that has never been used before so they are novel in identifying any kind of goods or services. Arbitrary marks make use of known words or phrases to identify completely unrelated goods or services. These marks are highly distinctive and work well as trademarks. Examples of fanciful and arbitrary marks include GOOGLE®, CLOROX® and AMAZON®.
2. Don't Choose a Merely Descriptive Mark: Words or phrases that simply describe your goods or services are not very effective as trademarks and are highly scrutinized at the USPTO. These marks are "merely descriptive" and often do not function as trademarks because they are not distinctive. Potential consumers generally do not associate descriptive marks as a unique source identifier but rather as a description of what they are purchasing. Avoid marks that directly tell consumers what you're offering. Don't brand your highly innovative 360° rotating vacuum cleaner as "Roller Ball Vacuum", a better choice is "DYSON®."
3. Do Select a Suggestive Mark: One way to avoid a "merely descriptive" issue is to select a mark that is suggestive of what you are offering. These marks do not immediately call to mind what your goods or services are, but require some additional thought or leap of imagination. Suggestive marks are fairly strong trademarks and are generally allowed protection by the USPTO. Examples of suggestive marks include "RAYBAN®" or "ALEVE®".
4. Don't Use Your Name or Names of Places: Proper names and surnames are generally not accepted as trademarks unless they have acquired distinctiveness for particular goods or services in the marketplace. This usually requires years of use and extensive marketing to establish the name as a brand and not merely a surname among consumers. Geographic names are also heavily scrutinized because the USPTO is reluctant to grant applicants exclusive rights in such names. Avoid marks that are geographically descriptive of your products, or, depending on the goods or services offered, marks that are geographically misdescriptive and likely to cause confusion among consumers as to the place of origin of the goods or services. Geographic marks are permissible when used in an arbitrary manner or otherwise unlikely to impact customer purchasing decisions regarding place of origin. Examples include "VINTAGE HAVANA®" or "100% CAPRI" for clothing. Geographically descriptive marks should not be confused with regional origin marks, such as "CHAMPAGNE" from France or "PARMA" ham.
Choose your brand name wisely. Select a name that is unique, memorable and that stands out in the minds of your target customers. For more trademark information or to discuss your specific trademark concerns, please contact us for a free consultation, (800) 769-7790 or send us an email.
---